Shopping Cart
Your Cart is Empty
There was an error with PayPal
Click here to try again
Thank you for your business!
You should be receiving an order confirmation from Paypal shortly.
Exit Shopping Cart
| | |
| --- | --- |
| Posted on November 17, 2009 at 9:40 PM | |
Types of Acne Scars and the Effective Treatments Available
Most people who scar after the acne clears see soft, saucer-like depressions or pits on their skin. Sometimes the skin loses its underlying support and develops a wavy texture. As we age, these scars often become even more noticeable. The good news is that no one has to live with these scars.
3 Types of Depressed Acne Scars
1.Rolling acne scars or Soft Contoured scars
These scars cause a wavy texture in the skin.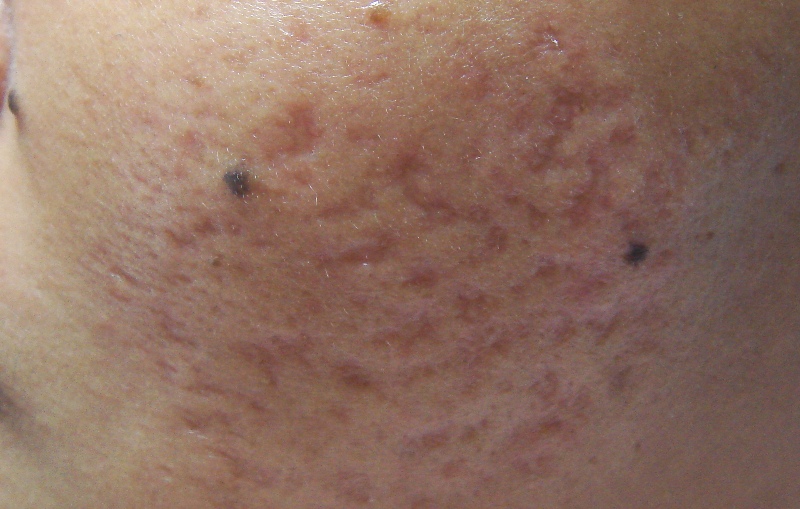 2. Boxcar acne scars
Often looking like large pores, boxcar scars cause boxlike walls to form on the skin.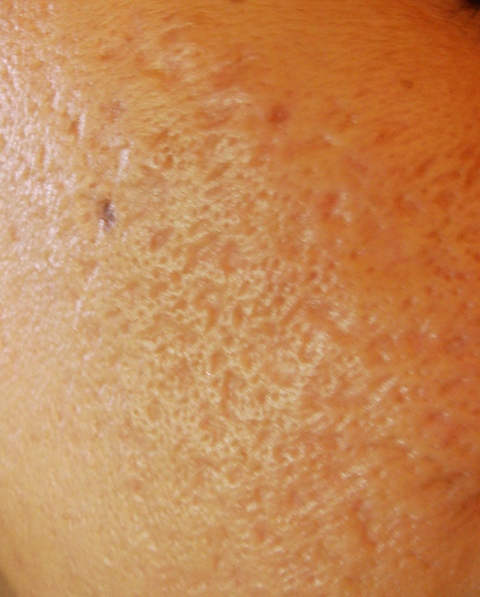 3. Icepick acne scars
When these scars form, it looks like a tiny ice pick punctured the skin. Icepick scars leave deep pits with narrow openings.
TREATMENT OPTIONS FOR ACNE SCARS AT THE SKIN WELLNESS DERMATOLOGY AND LASER CLINIC
 COLLAGEN INDUCTION THERAPY - FRACTIONAL MICRONEEDLING (MICROFRAX) / DERMAROLLER 
Collagen induction therapy can give us 50 to 70% over all improvement once performed under clinical settings. Most patients choose this modality primarily because of the fast downtime (2 to 3 days) and very good results.
  FRACTIONAL CO2 LASER - The GOLD STANDARD for Skin Resurfacing. Delivers faster result than other treatment modalities.Improves almost all types of scars and it rejuvenates, tightens the skin as well.
 TCA CROSS  -  FOR ICE PICK SCARS
 SUBCISION - FOR ROLLING, BOX SCARS
 MICRODERMABRASION FOR  DARK /HYPERPIGMENTED SCARS
 CHEMICAL PEELS FOR HYPERPIGMENTED ACNE SCARS
 ELOS LASER FOR RED ACNE MARKS
DERMAL FILLERS - DRAMATIC RESULTS FOR DEEP ACNE SCARS
photos of actual patients are property of Skin Wellness Dermatology and Laser Clinic
Consult our dermatologist to know the best treatment for you.
Categories: None
/